Turbine lights up Whirlpool Campground
Kayla Byrne, from the Jasper Fitzhugh newspaper wrote an interesting article that sums up what we did last summer.
(This article is reproduced here with the kind permission of the author.)
Link: http://www.fitzhugh.ca/turbine-lights-up-whirlpool-campground/
Formerly known as an off-grid campsite, visitors might be in for a surprise next time they head to Jasper's Whirlpool Campground.
Thanks to the powerful current of the Whirlpool River and a newly installed river turbine, campers will now be able to cook under a light after the sun goes down and charge their electronic devices.
"It's very basic services providing a little LED lighting and a place where people can charge their phones," said Steve Blake, special projects coordinator for Parks Canada. "What's really nice is that this project doesn't require any pipes or dams."
Through the federal government's Build in Canada Innovation Program, Parks Canada and Idénergie, a Quebec-based electric company, teamed up to install several river turbines throughout Canada's mountain parks as part of a larger pilot project.
Since 2015, the two partners have been working together to find the best places to install the turbines. In Jasper they assessed, Snaring, Kerkeslin, Jonas, and areas around Sunwapta, Maligne Lake and Whirlpool Campground before picking two locations–Whirlpool Campground and the HI-Athabasca Falls Wilderness Hostel.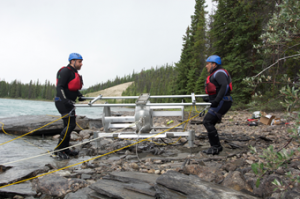 "All the sites were evaluated through Parks Canada's impact assessment process. We really looked at all the elements—visitor experience, ecological values and practicality," Blake said. "Snaring, for example, had good flow, but it was really far away from where we needed power…it just wasn't practical."
He said the hostel was also chosen because it already uses alternative energy sources.
"We've partnered with Hosteling International because they already have solar systems at Athabasca Falls—we've just plugged a turbine into their existing system," said Blake.
River turbines have also been installed at campgrounds in Banff and Kootenay National Parks.
At Whirlpool Campground, the spinning hydrokinetic turbine is attached to rocks at the bottom of the river by a single anchor, however, there is also a back-up anchor in case the first lets go. The turbine uses the river's current to produce electricity, which is then run through a submarine cable to a small cabin. The cabin is open to all campsite users and is also equipped with picnic tables and a wood stove.
"So basically now people don't have to fire up their lanterns if they want to cook or use the cabin after the sun goes down," Blake said.
According to Blake, the turbine can produce between four to 10 kWh a day—the equivalent of six solar panels.
"It's nice because it doesn't generate emissions and it generates power around the clock whereas solar panels need that sun," Blake said.
The turbine sits on a stand in the river and takes up about half of a square metre. While there is a sign warning river users to not get too close to the turbine, Blake said he doesn't expect the turbine—which is also clearly marked with several orange buoys—to pose any risks.
"If you're in a kayak you could even paddle right over it," said Blake, adding that the turbine also doesn't pose any threat to the river's fish population. "Fish are like anything else—they instinctually avoid harm. Also, in a river like Whirlpool there's lots of space—fish can swim around very easily."
According to Idénergie, 98 per cent of the fish will avoid the turbine. Of the two per cent of fish that do end up entering the turbine, more than 90 per cent have no injuries at all.
An emergency stop button has also been installed for extra safety precautions.
The pilot-project will come to a close at the end of the year, but Blake is confident the turbines are here to stay.
"It's my full expectation that Parks Canada will deploy these at various locations just to provide some of those basic services," Blake said.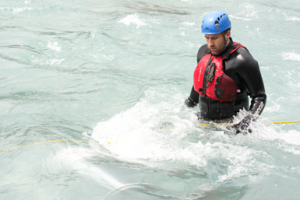 At the end of the camping season, the turbines will be plucked out of the rivers and re-installed at the beginning of each camping season, extending the longevity of the equipment.
Each river turbine costs about $10,000. The Build in Canada Innovation Program funded the turbines as a part of the pilot-project.
Jill Seaton, chair of the Jasper Environmental Association, said she had no issues with the turbines themselves, but was concerned how lights outside of the townsite might affect Jasper's dark sky status.
"The turbines don't sound too bad at all. I just don't want to see this get bigger and spread down the Parkway," Seaton said.
Blake assured the minimal LED lights that have been installed will not affect Jasper's dark sky status.
"We're not trying to make remarkable changes to the national parks or to the camping experience," Blake said. "We're just adding some very basic services."