IDÉNERGIE LAUNCHES A REVOLUTIONARY RENEWABLE ENERGY MANAGEMENT SYSTEM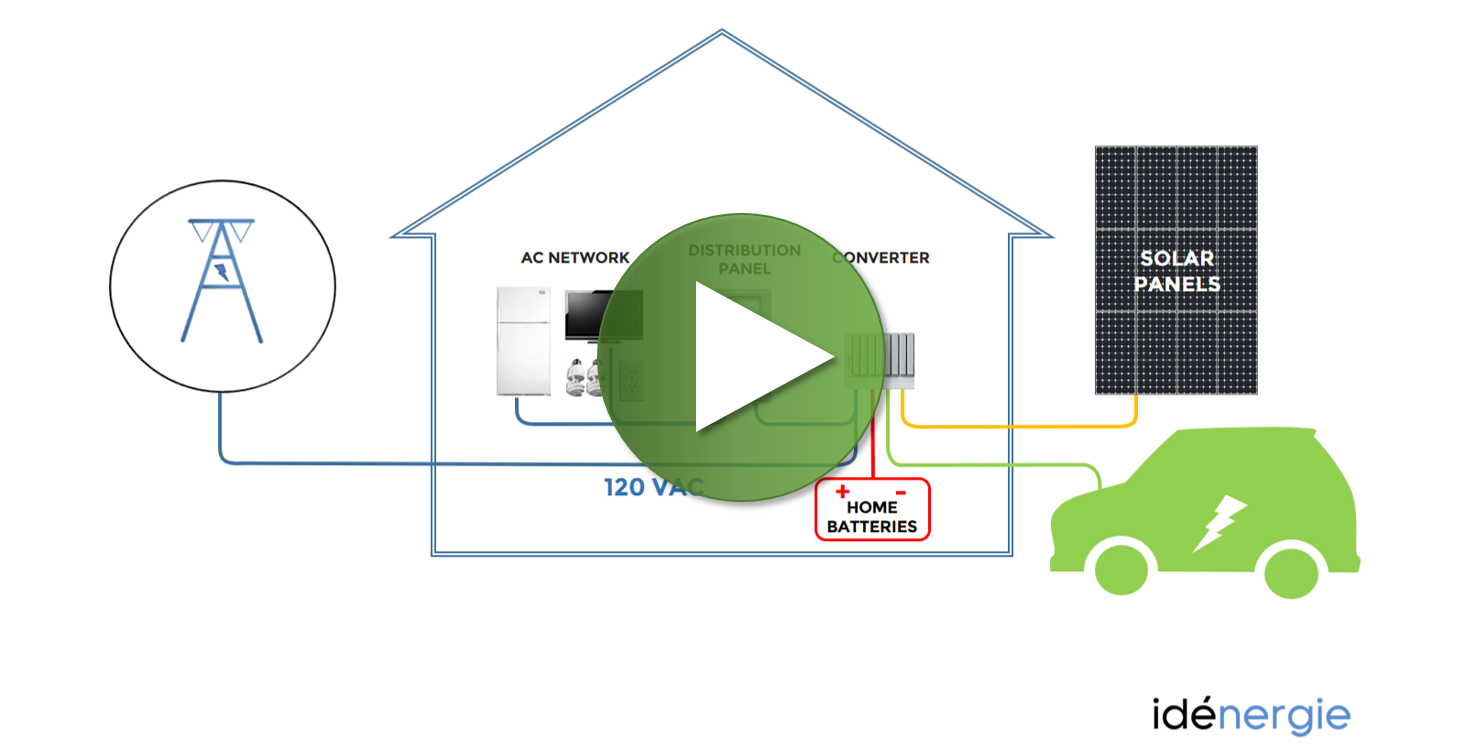 Click image to play.
MONTREAL (QC) — Idénergie Inc. announces today a breakthrough in solar conversion and renewable energy management with the launch of its residential energy management platform. The innovative system integrates highly efficient solar conversion modules, bidirectional electric vehicle charger modules, inverter modules that generate AC current and a smart module to sell electricity to the grid. The components are installed in a racking system that allows for easy expansion.
Renewable energy specialists are traditionally required to complete residential installations and these experts are simply not accessible at low costs. Idénergie's renewable energy management system will make it possible for electricians to deliver solar projects by simplifying the design and installation process. By targeting the soft costs of installing solar projects, Idénergie's technology could increase the adoption rate of renewable energy and the impact of distributed energy resources.
"It is an exciting time for solar. We believe our technology could have a significant impact on how we manage renewable energy at home. Similar to the advent of computer towers, where we could select different peripherals based on our needs, owners of Idénergie's modular system will be able to easily configure their installation and simply slide in the required modules into a racking system. Our electronic platform further gives owners the ability to expand their system through time, and meet their evolving needs," explains Pierre Blanchet, Idénergie's CEO.
But for the time being, Idénergie's electronic platform is a definite step forward in the residential renewable energy industry thanks to its own internal micro-grid technology, exchanging energy at high voltages for higher efficiencies and high-speed communications using to fiber optics. It also integrates smart-grid compatibility, allowing utility companies to interact with distributed energy resources to better manage the electrical demand on their network.
Idénergie is currently seeking qualified investors to join this promising mission and beta testers in Quebec who own (or are considering acquiring) a renewable energy system. For more information about the technology, visit:
For interview requests, contact:
Pierre Blanchet, Président
514-701-5550