Please note that all information concerning our power converters on this web page has been moved to:
IDÉNERGIE'S SMART RENEWABLE ENERGY HOME SOLUTION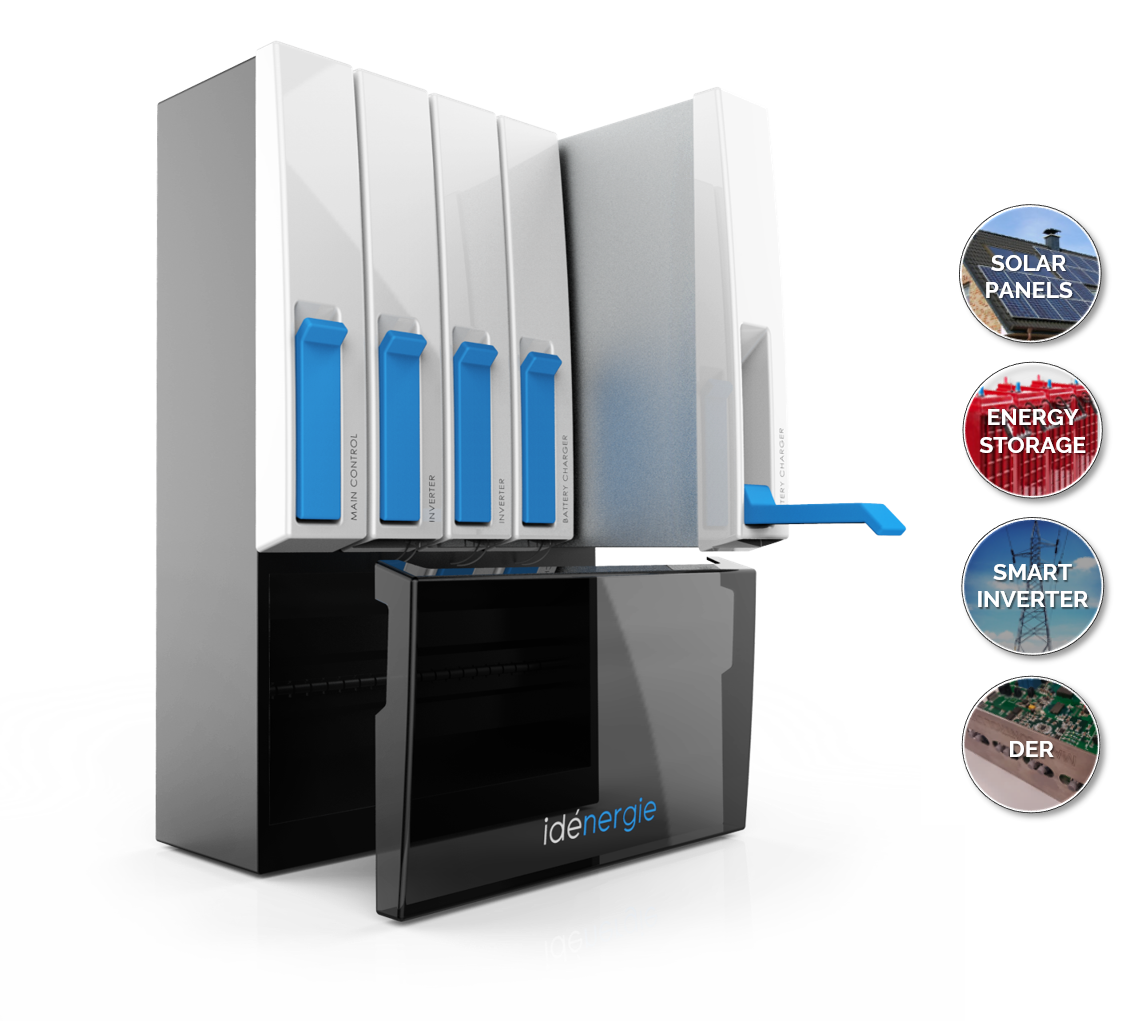 SMART GRID


• Advanced DER management functions (voltage, frequency,
power factor, etc.)
• Flexible processor architecture to handle California RULE 21 updates phase I,II & III
COMMUNICATION

• Embedded wireless server
• Fiber-optic communication
( > 200x CANBUS speed)
• API for custom DER directives, signal monitoring & recording
RELIABILITY

• Natural convection heat dissipation, no fan
• State of the art SiCMOS switching technology
• Advanced power control for grid/microgrid stability
 INSTALLATION

• 2.4 kW add-on modules
• 50% weight and footprint reduction over current competition
• Modules swappable by user
FEATURES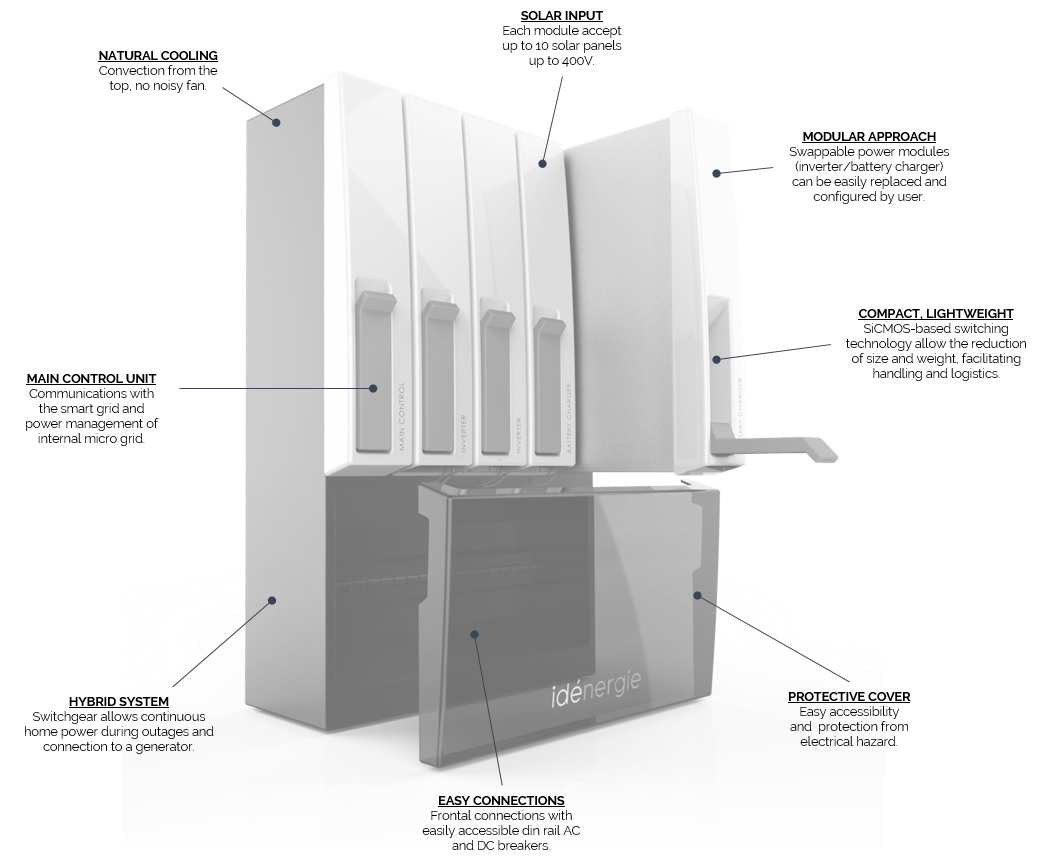 installation made simple
Designed with electricians and owners in mind
Using our upcoming online design tool, design your solar project with the assistance of your electrical contractor.
Select your enclosure/electrical box, adapted to your current and future needs.
Have your electrician install the enclosure on a wall and also install the required modules, and make the required connections with your solar panels, household batteries and your AC electrical panel.
Depending on your evolving needs, install additional modules and functionalities as needed.
Replacement modules can be sent by express mail and replaced by the user.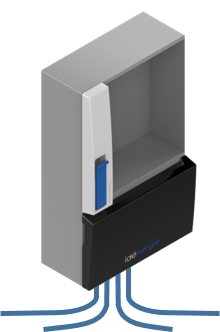 Step 1
Ask a certified electrician to connect the docking bay to peripherals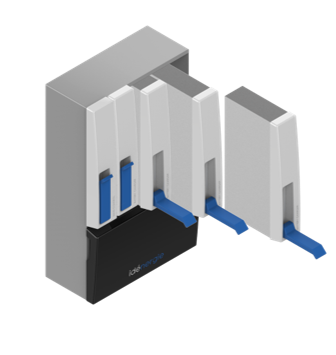 Step 2
Insert the modules into the docking bay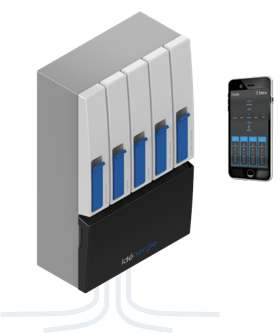 Step 3
Connect the modules to the MCU and enjoy the potential of renewable energy!
SCALABILITY
Add flexibility while reducing installation costs
The micro-grid technology allows the installation of converters of different types as required. Users can scale up their solar system, increase the size of their battery bank or the total AC power output by simply adding the appropriate modules. It is also possible to expand the storage on several battery banks or strings of batteries of different type and different age. The micro-grid can be expanded by connecting additional docking bays in parallel, thanks to the flexibility and stability provided by the control board and its energy flow management technology.

SMART GRID COMPLIANT
Communication is at the center of our architecture
As the presence of solar power is increasing on the grid network, electricity provider need a form of remote control over distributed resources (batteries, solar production and inverters). California Rule 21 will soon impose communication standards to electricity providers across North America to maintain stability. Our control unit is at the heart of the energy management of the future, by exchanging data with the smart grid.
The communication system allows to receive encrypted instructions from the smart grid to (i) help correct the local electrical signals of the network (frequency, voltage, power factor), (ii) sell the energy stored in its batteries at the appropriate moment or (iii) reduce the electrical load on demand. It maximizes the profits generated by your solar and energy storage installation.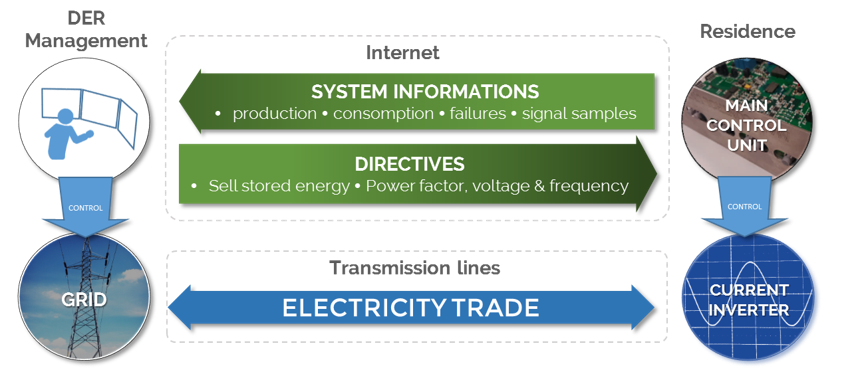 INCREASE PROFITABILITY OF RESIDENTIAL ENERGY STORAGE
>As the electricity markets pricing vary through day, there are some moments when consuming the energy stored in residential batteries becomes profitable.
Energy pricings are tracked all day long to target the best moment to use your energy. By being in constant communication with our server, the utility server or an aggregator, our system allows to maximize the profitability of your storage.
Where applicable, the switchgears can disconnect some disposable loads and allow the selling of negative energy through aggregators.
The embedded server also opens the door for future updates in the energy market including energy trades through cryptocurrencies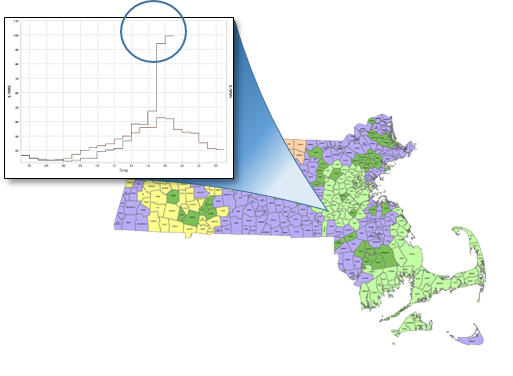 MONETIZE SERVICES TO THE GRID NETWORK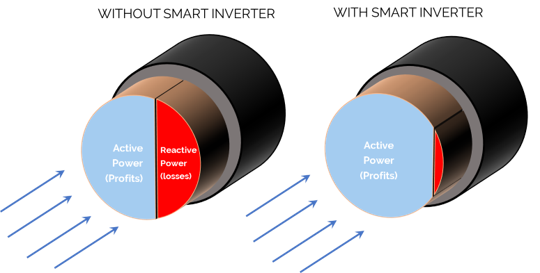 >In the U.S., more than 6% of overall energy is lost on the network on transportation and in some regions it gets even worse.  By injecting reactive power into the grid, you can contribute to reduce those losses and monetize it where available.
The communication system allows to send local electrical signal sample to DER managers and then to receive encrypted instructions from the smart grid to help correct the electrical network (frequency, voltage, power factor)
MONITORING 2.0 FOR ADVANCED NETWORKS
>Traditionnaly, monitoring has been reduced to simply watching energy flow in the system. Thanks to our high speed fiber optic communication, it is now possible to give the grid managers, aggregators, techncians an engineers access to signal sampling from a secure encrypted connection and display it on a virtual oscilloscope from distance. It's like turning the inverter into a remote probe for the AC network.
 Classic monitoring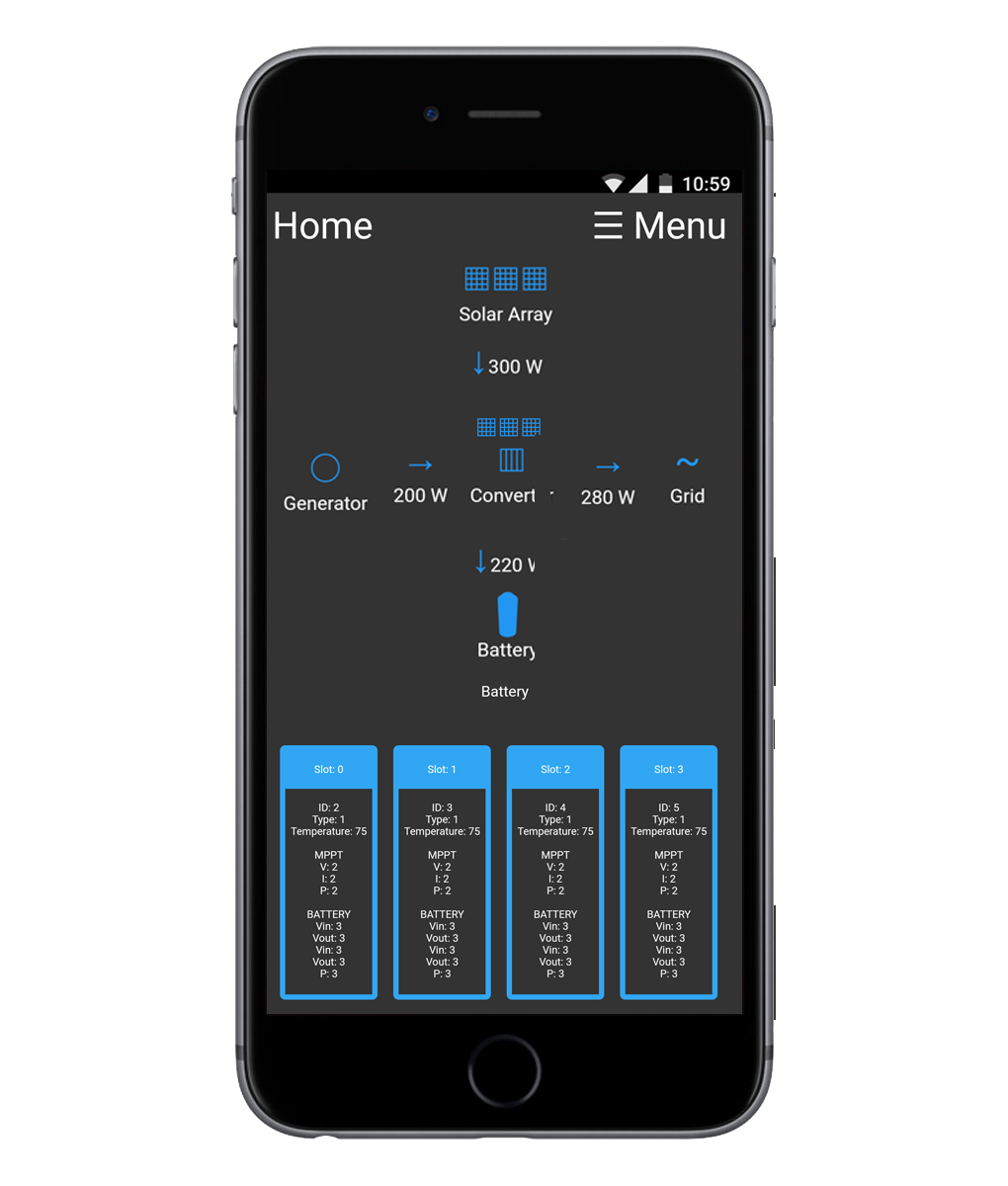 Advanced monitoring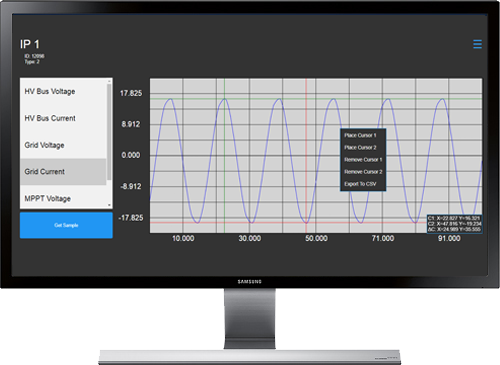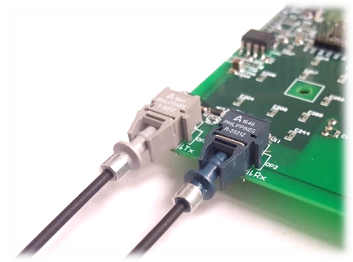 SPECIFICATIONS
Renewable energy made easy
 The basic package comes with 2 battery modules and 2 inverter modules of 2.4 kW each totalizing 5 kW of storage in/out. Each module comes with a solar input going up to 2.4 kW as well. Additional docking bays can be bought for scalability. A communication module with embedded wireless server allow local and remote control and communication.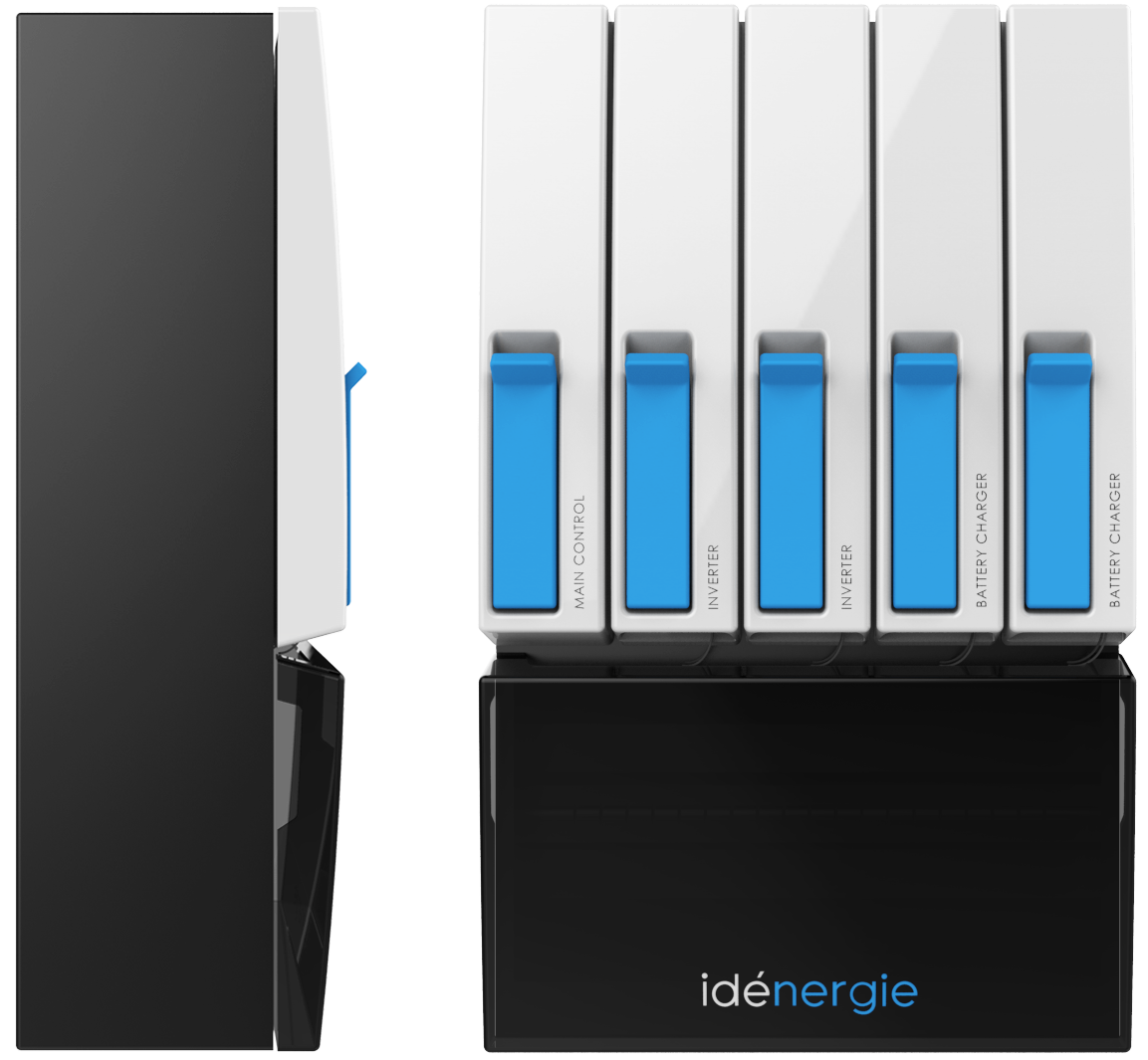 Solar MPPT
3 kWh/module
12 kWh Total
Battery charging
2.4 kWh/module
9.6 kWh Total
Inverter
2.4 kWh/module
9.6 kWh Total
Efficiency
95% round-trip at full load
Supported Applications
Back-up power
Time-of-use load shifting
Off-grid
Voltage and frequency ride through
Signal monitoring and sampling
Remote control
Warranty
5 years
Operating Temperature
-4°F to 158°F / -20°C to 70°C
Cooling
Natural convection, no fan
Dimensions (Docking)
L x W x D: 21″ x 10″ x 8″
(533mm x 254mm x 211mm)
Weight (Docking)
11 kg
Dimensions (Module)
L x W x D: 8″ x 2″ x 14″
(216mm x 53 mm x 356mm)
Weight (Module)
7.7 kg
Installation
Wall mounted
Message to early adopters
We are looking for beta testers in Quebec and its surrounding regions, who have plans to build a solar installation or open to test our products as part of their current system before we engage in full-scale commercialization, early 2018. Please contact us to receive more information on our beta test program, its terms and conditions, and incentives by filling out the following form.