A new alternative
We estimate that 1.4 billion individuals across the world are without electricity, most living in rural and distant areas inaccessible to the national or regional electricity grid. The most common energy solution available is the use of gas generators which are polluting and can be expensive to maintain in the long term. As an alternative, the use of green technologies is rapidly growing.
Renewable energy solutions are gaining popularity especially in the residential market. Billions of dollars are invested every year on solar and wind systems. However these renewable energy products do not represent optimal solutions for meeting individual needs due to intermittent production of energy resulting in weather variations. In consequence, these systems are only used to 12% to 35% of their capacity implicating an over sizing of installations and storage systems to accumulate the energy when produced. However one regular and predictable energy source is unexploited: the river.
The ideal source of renewable energy
Among all renewable energy sources, only the river can provide a predictable and reliable source of energy, 24 hours a day. Idénergie's turbine is the solution of choice to fully benefit from the continuous  production of energy offered by the river. This allows, among other advantages, the use of less batteries than the standard norm since the energy produced is uninterrupted and less subject to weather variations. Idénergie's river turbine is the only water driven technology that meets the needs of a residence by directly supplying household appliances and recharging batteries. It equally represents an excellent emergency backup system because of the endless supply of energy it provides.
Easy to install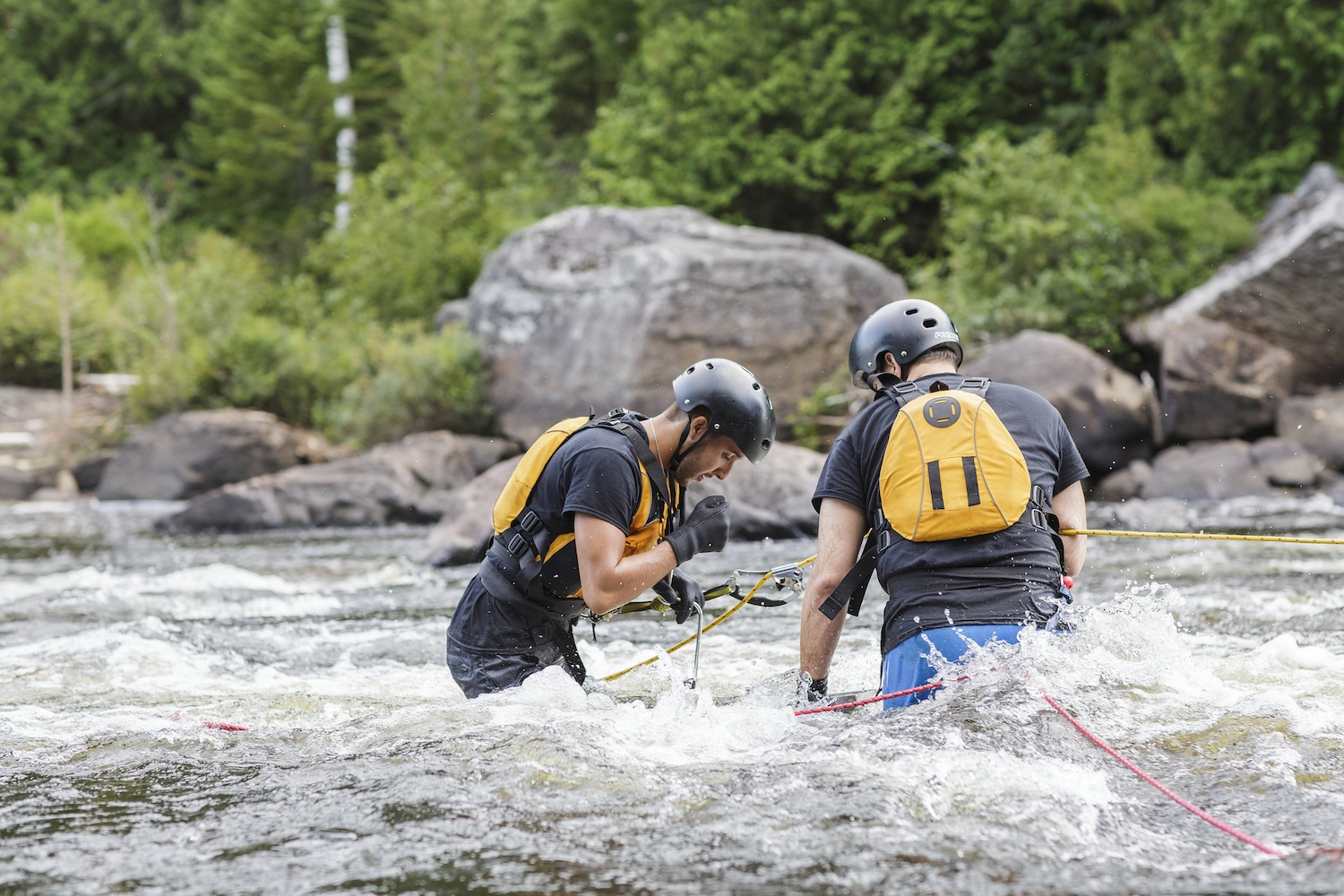 Our turbine can be dismantled in separate pieces in order to facilitate shipping to the the most remote locations and is ready to assemble on site. This allows for a simple and fast installation which requires only 2 individuals in less than a 24 hour period. The turbine is attached to a stable pillar from the front with a steel cable and is deposited on the river bed, self positioning in the fluid like a kite. Electrical DC connections are simplified by the presence of our embedded electrical converter. All that's left to do is connect the output cable to your batteries, without any additional electric equipment.
The first smart river turbine
Idénergie's river turbine has an embedded smart converter that allows the conversion of the energy harnessed from the water current into electricity to recharge batteries and power home appliances. In addition, it allows the user to have better control by automatically regulating the rotational speed of the turbine thus extracting maximum power from the current; it has a built-in motor mode to enable automatic start-up and emergency disconnect of the turbine on demand. In case water speed is very low, the smart turbine can use the generator in motor mode to initiate sufficient movement in order to produce electricity. The output power is set to DC current, from 24 to 48 and more in order to allow the transport of electricity over long distances.
Low maintenance
Idénergie's river turbine uses a new type of electric generator which Idénergie is the inventor and sole manufacturer. The generator is very efficient at low water velocity and provides an energy production equivalent of 4 to 10 solar panels (between 2 and 6 kWh/day).  Our unique patented shaftless technology prevents any water intrusions within the generator's electric casing, allowing an almost maintenance free subwater generator.
Robust design
Idénergie's river turbine is composed of two Darrieus turbines. This model was chosen for its simplicity of manufacturing and installation. It accommodates a water depth of only two feet and with a minimum of 1,2 m/s water velocity, the turbine can produce 2.4 kWh/day. This represents the energy production equivalent of 16 x 250W solar panels. In addition the blades are inexpensive to produce, easy to replace and ship in case of damage. The structure and envelope of the generator are made ​​of aluminum chosen for its lightweight characteristics, structural rigidity and its resistance to corrosion. Free hanging turbines and upward rotational mechanism descreases the chances of debris accumulation. Its robust design has been proven to resist even heavy loads as trees.
---
In harmony with the river ecosystem
Mostly made of noble metals such as aluminium and other environmentally friendly components, the turbine is the greenest amongst all available renewable energy products. These material do not react to the environment and are easily recyclable ensuring a subtantial end of life value. In addition, the river turbine does not require a permanent structure reducing its impact on aquatic fauna.
By taking into account numerous studies estimating the interactions of the turbines with the ecosystems, Idénergie designed its product in order for it to have minimal impact on the aquatic fauna and its housing environment. Studies carried out by the Alden laboratories, an american entity, have proven that the Darrieus Turbines, used by Idenergie, represent no harm to the river's ecosystem. In fact, extracting energy from a fluid tend to slow it down, resulting in faster velocity on the side of the turbine thus floating objects and debris, as well as fish, tend to naturally avoid the turbine resulting in 98% survival rate.